We are a production company based in Santiago, Chile, focused mainly on performing arts and animation, where we develop your ideas and goals, your brand potential, or whatever you want to communicate.

Our experience in audiovisual formats, stage, music and sound allows us to combine interdisciplinary languages in a comprehensive way, in pursuit of dynamic and exciting results with added value, at the service of the creative industries.

Creators at the service of creators.

Somos una productora ubicada en Santiago, Chile, enfocada principalmente en las artes escénicas y la animación, donde desarrollamos tus ideas y propósitos, tu potencialidad de marca, o lo que quieras comunicar.

Nuestra experiencia en los formatos audiovisuales, en los escenarios, la música y el sonido nos permiten combinar lenguajes interdisciplinarios en forma integral en pos de resultados dinámicos y emocionantes con valor agregado, al servicio de las industrias creativas.

Creadores al servicio de creadores.
Teaser: Tomy, Are You Here? / Tomy ¿Estás Aquí?
| | |
| --- | --- |
| Tomy, Are You Here? is an animated series for preschoolers between 3 and 6 years old. Tomy is an extremely imaginative 5-year-old boy (almost 6) with great interest in discovering the world around him. His thoughts make him detach himself from reality, causing conflicting ideas to appear in his mind, leading him to imagine threatening scenarios. These ideas come from things he hears from the adult world that he does not quite understand, which combined with a child's point of view, turn them into unbelievable situations he will then have to resolve, doing all kinds of things that are within his reach. | Tomy ¿Estás aquí? es una serie infantil animada, cuyo público objetivo son niños y niñas en edad preescolar de 3 a 6 años. Tomy es un niño de 5 años (casi 6) extremadamente imaginativo y con una gran inquietud por descubrir el mundo que le rodea. Sus pensamientos lo hacen abstraerse completamente de la realidad, generando conflictos que se sitúan en su imaginación, llevándolo a escenarios amenazantes. Estas ideas provienen del cruce de la mirada de niño con ideas que escucha del mundo adulto que no termina de comprender, convirtiéndose en increíbles situaciones que luego tendrá que resolver, realizando toda clase de cosas que estén a su alcance. |
Los Patapelá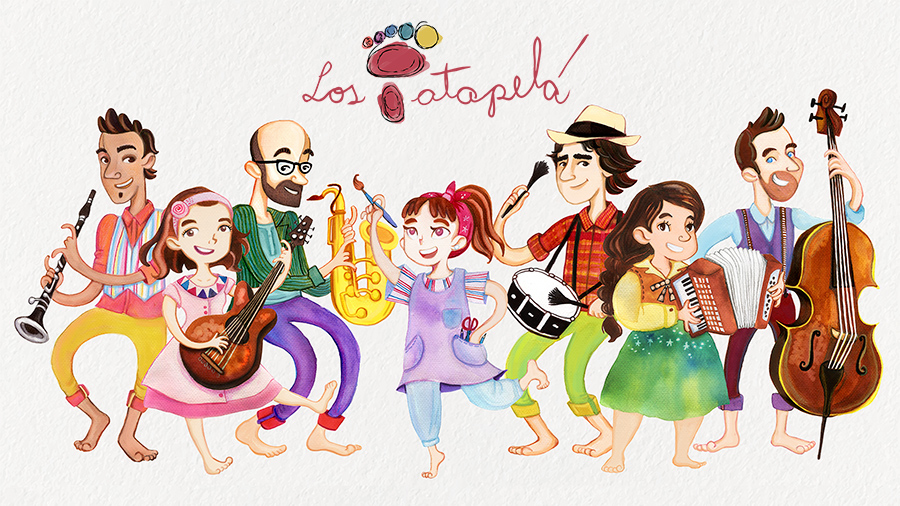 | | |
| --- | --- |
| Los Patapelá are a theater and music group for children and family audiences that to the rhythm of swing, manouche, gypsy jazz and Latin American styles, performs musical theater plays to encourage imagination, discovery and play, using acoustic instruments such as saxophone, clarinet, flute, accordion, guitar, double bass and drums, with all members singing. | Los Patapelá es una agrupación de teatro y música para niños y público familiar formada en 2015, que a ritmo de swing, gypsy jazz, klezmer y estilos latinoamericanos, interpreta obras de teatro musical para imaginar, descubrir y jugar, usando instrumentos acústicos como saxofón, clarinete, flauta traversa, acordeón, guitarra, contrabajo y batería, y cantando todos sus integrantes. |
Animation and VFX reel / Reel animación y VFX
contacto@ojopiojopro.cl
+56 9 9224 2898